Dr Mahlon Locke lived in Canada during the Great Depression in the 1930's. He came to fame by his amazing ability to cure flat feet, rheumatism, arthritis, sciatica, neuritis, sleeplessness, poor eyesight, shingles, indigestion, varicose veins, gall bladder attacks, appendicitis, and even eczema. He managed this by manipulation of the feet, taking 20 or 30 seconds per patient. The technique was so quick, he often treated many hundreds of people per day, and several thousand per week.
See a brief overview in the US Time article of Jul 25th 1932: Time article
And for a more in depth report, Barbara Clow's article Barbara Clow
His obituary in the canadian press: Obituary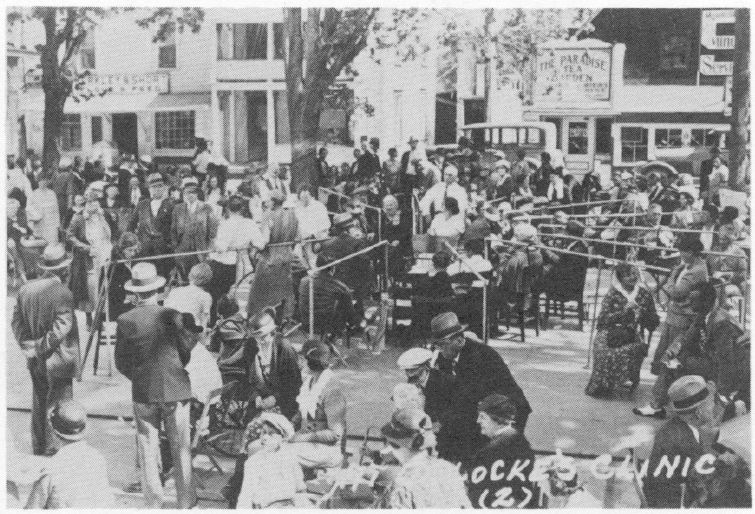 The 'circle' awaiting the doctor.(Photograph courtesy of the Canadian Bulletin of Medical History and Robert Jackson, M.D.)
Unfortunately, when he died in 1946, he took the secret with him - it was evident he hadn't trained any one else to carry on. Several people tried to reproduce the effect, but the magic had died with the doctor.
Patients awaiting the doctor. He sits in the centre of 'the circle' on a revolving chair. From Barbara Clow, Mahlon William Locke, "Toe Twister". Photograph courtesy of Robert Jackson, MD
Now, through muscle testing and much experiment, I have re-discovered if not the same technique, then my version of it. I have studied archive film of the doctor, and surrogate tested the doctor's son and grandson, who were traced by Charles Stewart - a film maker who is making a documentary on the doctor, and will be filming the workshops! I have applied this method to my patients as an adjunct to their regular treatment.
Patients have reported marked improvements in their symptoms.
One example - An 86 year old woman with loss of confidence and anxiety for one year. After 2 treatments of almost exclusive toe twisting, very little other therapy, she said her doctor had remarked that she was the best he had seen her in 2 years, and she agreed with him. Her anxiety and loss of confidence were much improved. She scored herself as 2 out of 6; on a scale where 6 was when she started treatment - bad, and 0 no problem at all). She had also had a big surge in her energy levels, about one week after the 2nd treatment. On testing, I found that toe twisting had been 94% the reason for her improvement.
What's next?
I plan to teach this technique to whoever wants to help me explore it further. As I am sharing this previously lost technique with my peers, I would like them to work on it in their own practices and at some point we will re-convene and report back any new enhancements together. In this way the 'secret' will never be lost to the world again. All are welcome, but if you can't muscle test, you will need to learn this first. I shall be holding a workshop on learning this valuable aid before the toe twisting workshop.
Each workshop will cost £60, start 9.30am, finish 5pm, bring lunch to share.